What if you could create pool cleaning service in <city name> pages for your business for all the cities in India at once and start ranking for the keyword in those cities?
While you can create hundreds of pages manually, it's a time-taking process.
But… you can do it quickly with Programmatic SEO – it's a process of dynamically creating hundreds or even thousands of SEO-optimized pages.
So… if you want to drive millions of traffic to your website by creating landing pages in bulk, this Programmatic SEO guide is for you.
The guide is divided into the following 4 chapters:
Programmatic SEO fundamentals
Technical aspects and setup
Launch and complications
Performance measurement
Let's dive right in, then.
#1. Programmatic SEO Fundamentals
In this chapter, you'll find all the basics that you need to know about programmatic SEO.
What is Programmatic SEO?
Programmatic SEO is an organic marketing strategy that involves creating hundreds of SEO-optimized landing pages and ranking them in search engines. The landing pages target important long-tail keywords that the users search for.
Programmatic SEO is the solution to content creation at a large scale.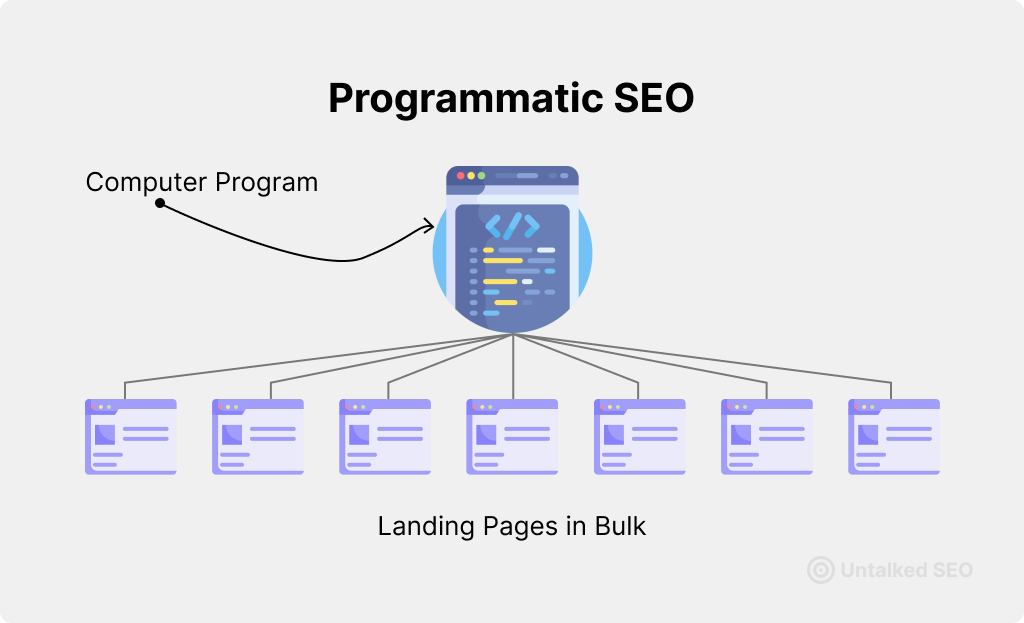 Recently, there has been a lot of buzz around the technique and more and more companies are using it.
What are the benefits of using Programmatic SEO?
The following benefits will help you understand why you should care about Programmatic SEO.
Scalability: You can programmatically create 100s or even 1000s of pages within no time by using proper keywords and modifiers.
Less effort: Manually creating 100s of pages will take forever whereas, with Programmatic SEO you can do it in just a few hours.
Better search visibility: More SEO-optimized pages mean your website has a higher chance of appearing in the search results for the keywords that people search.
Better user experience: Generally, the targeted keywords are longtail keywords and the landing page serves exactly what the user is looking for. That way it automatically improves the user experience.
More leads: If more pages rank in the search results, more people will come to the website, and you will be able to collect more leads.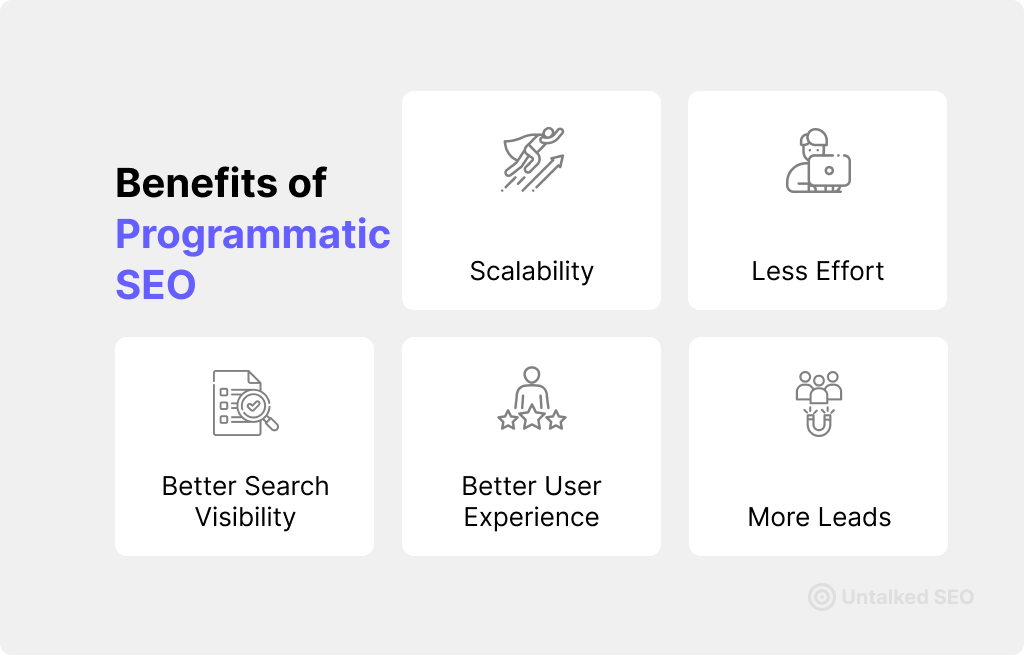 When should you implement Programmatic SEO on your website?
You should only take the help of Programmatic SEO if your use case fits in one of these:
You have to target thousands of keywords with similar content
The design of all the pages is to be the same
You're targeting the long-tail keywords in bulk
You're creating a curation or marketplace website
You have to create similar-styled pages at scale
#2. Technical Aspects and Setup
In this chapter, you will learn how exactly Programmatic SEO works and how you can implement it on your website.
How does the Programmatic SEO work?
The idea here is to create a webpage for every possible search term, that way the website will be more likely to rank for those keywords.
To understand it well, let's take an example:
Say, you run an agency that provides pool cleaning services in all the cities in India. And you want your business to appear if someone searches for pool cleaning service in Mumbai or pool cleaning service in New Delhi, or in any other city.
Now the issue is, there are more than 4000 cities in India. Clearly, it won't be possible to create this many pages manually. But with Programmatic SEO, you can!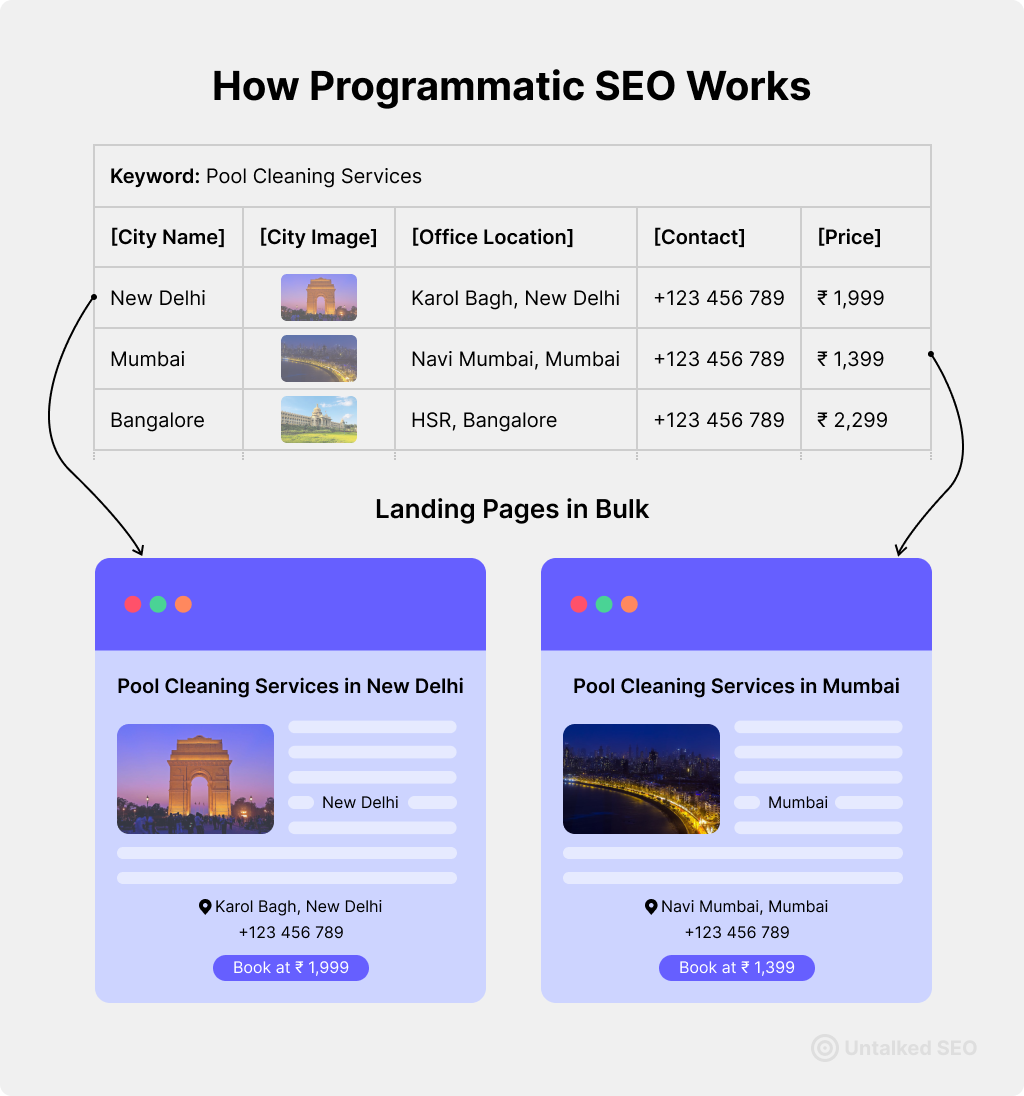 You need to prepare a list of all the variables for the city like City Name, City Image, City Office Location, Contact Number, etc. And, then design a template page and feed the data from a well-researched database.
How to do programmatic SEO?
To do programmatic SEO on your website, here are the 4 main steps that you have to follow:
Identify pSEO keywords
Create an optimized page template
Prepare the database
Generate pages, programmatically
And as you might have imagined, identifying the long-tail keywords that your users search for and that have the right search intent is the most difficult as well as an important part.
Let's go through each of them in detail.
A. Identify pSEO keywords
It's the trickiest part!
Only long-tail keywords are selected for doing Programmatic SEO because they are easier to rank, more targeted, and have a transactional search intent. Generally, high-quality blog posts rank for broad and generic keywords and it's very difficult to outrank them using a programmatically created webpage.
Programmatic SEO is not about creating authoritative content, it's about creating more targeted content to improve user experience.
To start, identify the terms that people are searching for where your product can help. Don't just focus on the niche and product-related keywords.
Here, keywords have two parts – head terms and modifiers, as shown below.

And along with the head terms, you also need to find the modifiers to generate multiple possible long-tail keywords using permutations and combinations. These modifiers can be:
geographic locations
professional groups
businesses
product categories
companies, etc.
For example, if your business offers pitch deck templates then "pitch deck templates" is a head term, and you can choose multiple modifiers like "for startups", "for SaaS", etc. And, the final keywords would come out like this:
Pitch deck templates for startups
Pitch deck templates for SaaS, etc.
You get the idea, right?
I recommend using Google Sheets to create a spreadsheet for noting down the possible head terms and modifiers – put head terms in the first column and all the modifiers in the first row, as shown in the screenshot below.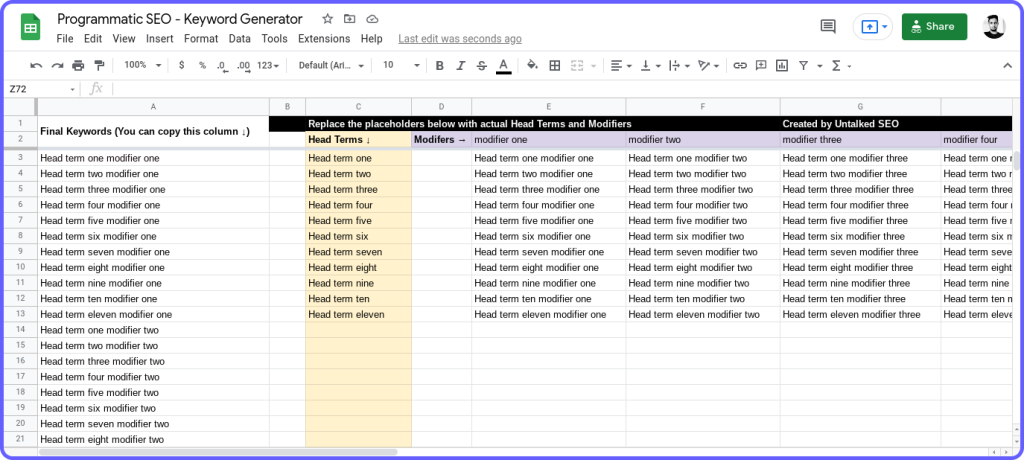 However, you can choose any other preferred method to store the head terms and modifiers data.
Here are some ways that you can use to find the keywords with high transactional intent:
a). Leverage Google to find actual search terms
There can't be a better place than Google itself to find keywords. Take the help of Google Suggest, Related Searches, and the People Also Ask section to get various keyword ideas.
Repeat the process with different head terms and note down the results in the keyword spreadsheet, as you see in the above image.
For example, Zapier offers integration and automation between hundreds of apps. They noticed that most people use the search term "how to connect <app 1> + <app 2>" and they optimized all their programmatically created pages around that.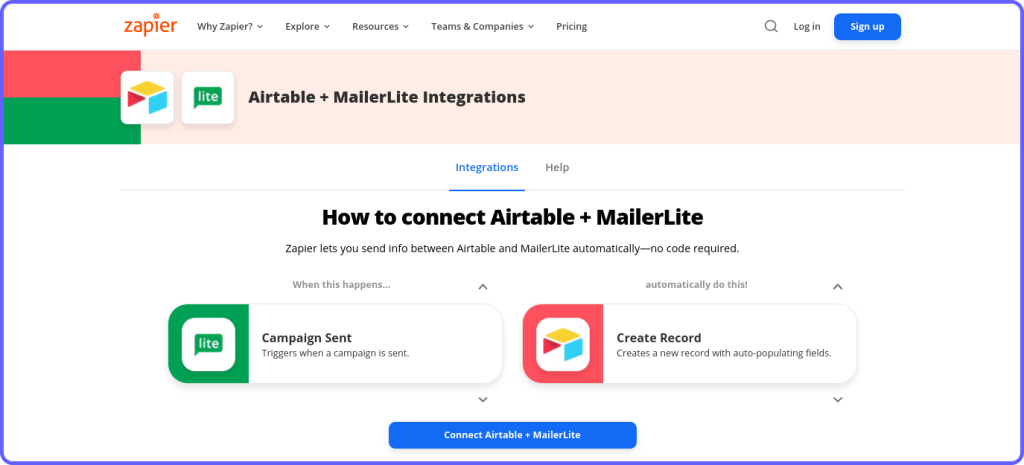 b). Research competitors
Competitor research has always been a great way to find out some great keyword ideas. Unless your business is something that no one else is doing, try researching your competitors – find out which keywords they are getting the most traffic from. Note down everything in the spreadsheet.
Choose at least 5 websites that outrank you in the SERP and research them. You can use SEO tools like Ahrefs and SEMrush for this.
c). Possible use cases of your product
By looking at the data and brainstorming the possible use cases of your product, you can try to find what are the different ways people use your product for. It will unlock a whole different set of keywords to target. And, note down all the finalized ideas.
For a better understanding, let's take the example of Airtable:
Airtable offers a hybrid of spreadsheet & database and it has hundreds of use cases. So instead of targeting only the spreadsheet and database keywords, they created 100s of landing pages targeting keywords like "template for digital video production", "content calendar template", "marketing campaign tracking template", etc.

Airtable has a dedicated page where all the templates are listed and then has individual landing pages for all the templates. Not to mention, they are dominating the SERP with this amazing strategy.
d). Use keyword research tools
You can use keyword tools like Ahrefs and SEMrush to find out great transactional keyword ideas. Google Keyword Planner, which is free to use, can also be very helpful.
And remember, even if a keyword has only 10-100 or even zero monthly searches and it's highly transactional in nature, note it down. Because most of the time, the keyword tools seriously underestimate the monthly search data.
e). Scroll through forums
Forums and communities where your audience hangs out can be great places to find keywords. The places can be Reddit, Quora, Facebook Groups, Indie Hackers, Twitter, StackOverflow, etc.
If your product is a note-taking app, you can search for note-taking in these forums and go through all the questions and responses one by one to find out some gems. Yes, it's a manual and time-taking process, but it's worth it in the end.
f). Brainstorm
No one knows your business better than you do and you can use that knowledge to find out head terms that even advanced SEO tools can't find.
I also recommend brainstorming various aspects of your business to find the head keywords. Try thinking about the problems that the potential user might be facing and what they will be searching for to get to the solution, and note down everything.
And, once you find all the possible keywords from all these different methods, it's time to analyze their search intent. Go through all the keywords and see if they are a good fit.
There are 4 types of search intent but you have to focus mainly on transactional and informational intent. You have to find keywords that are direct and quickly let the user do what they're trying to do. There isn't any formula to measure the search intent, but these guides by SEMrush and Backlinko will help you understand it well.
Now, you should have the keywords spreadsheets ready. And, you just have to create the list of final keywords by combining the head terms and modifiers.
If you used the Google Sheet spreadsheet as I recommended, you should have all the keywords ready by now.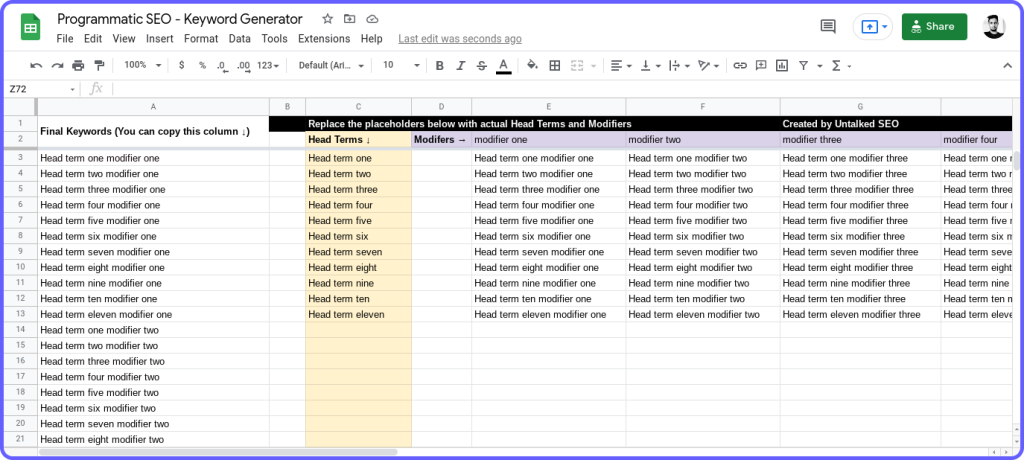 Just "Make a copy" of the above spreadsheet, enter your Head Terms and Modifiers, and you'll get the final keyword list in the first column. You may need to adjust some formulas in there.
And if you want further information, I have written a separate guide to finding head terms for programmatic SEO.
B. Creating an optimized page template
Because all the pages are generated dynamically, you need to create a page template. The template is like an overall structure of how you want your pages to appear.
But first, you have to choose which style of page template you would be creating – either a simple blog post or a good-looking landing page (as shown below).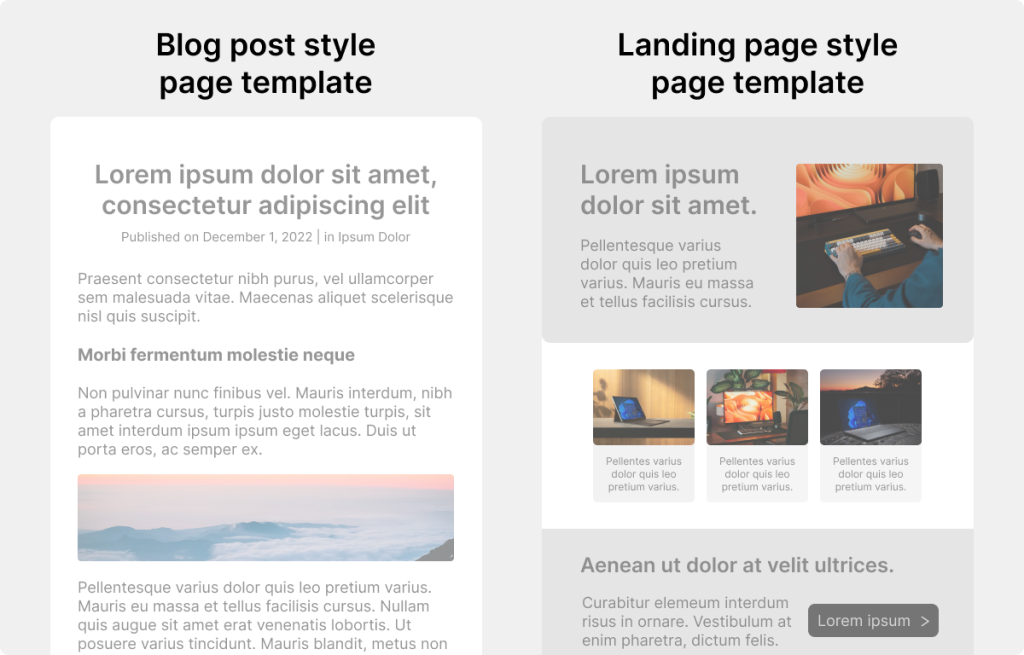 And then you need to decide what information you would like to include on the pages. To give you an idea, you may have the following data on your template:
Short description
Images
Features
Stats
Customer testimonials
About
FAQs, etc.
For creating the page template, you should keep these 2 things in mind:
It should be SEO-optimized
It should have a great user experience
a). SEO-optimized
The whole idea is to create hundreds of pages to bring traffic from search engines, so it must be SEO-optimized. You need to pay special attention to these on-page optimization techniques:
Optimize the page around keywords
It's very important to optimize the page around the respective keywords. For that, you can
Add the keywords in the meta title and description
Use keywords in the page URL too
Add at least 1 image with the main keyword as the alt text
The click-through rate (CTR) depends on how compelling your meta title and meta description is, so spend some time optimizing them.
Using direct keywords in the page URL is always preferred but if it's too long, you can remove some unnecessary words (like stop words) from it. To understand it better, take a look at the below infographic.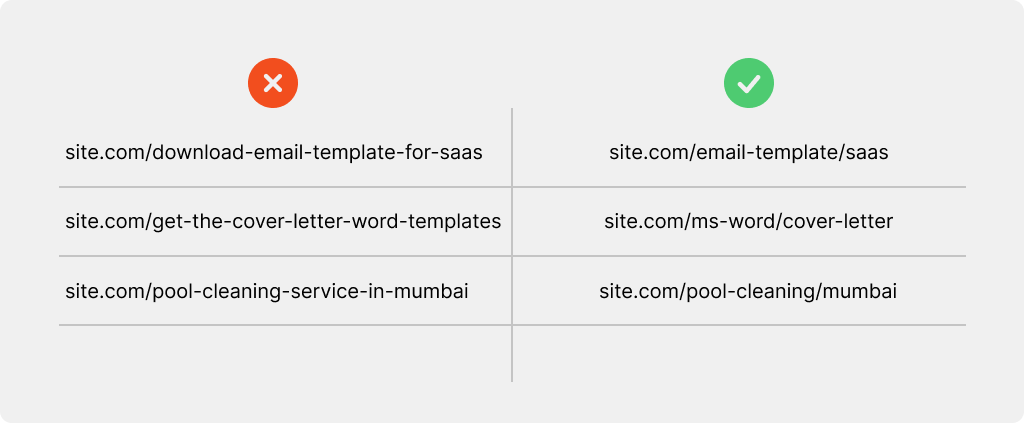 Optimize the page content
Your goal should be to make the landing page appear good — to the search engines as well as to the readers.
To optimize for search engines:
Add keywords to the page content a few times
Add outbound links to relevant resources
Add several internal links to other pages
Optimize images on the page to load fast
If possible, add schema markup
And to optimize for the readers, make the page look attractive and skimmable.
Add Open Graph images
While it may not sound like a big deal, adding attractive Open Graph or OG images to pages does make a difference. Whenever someone shares the link on social media, it looks attractive and increases the CTR.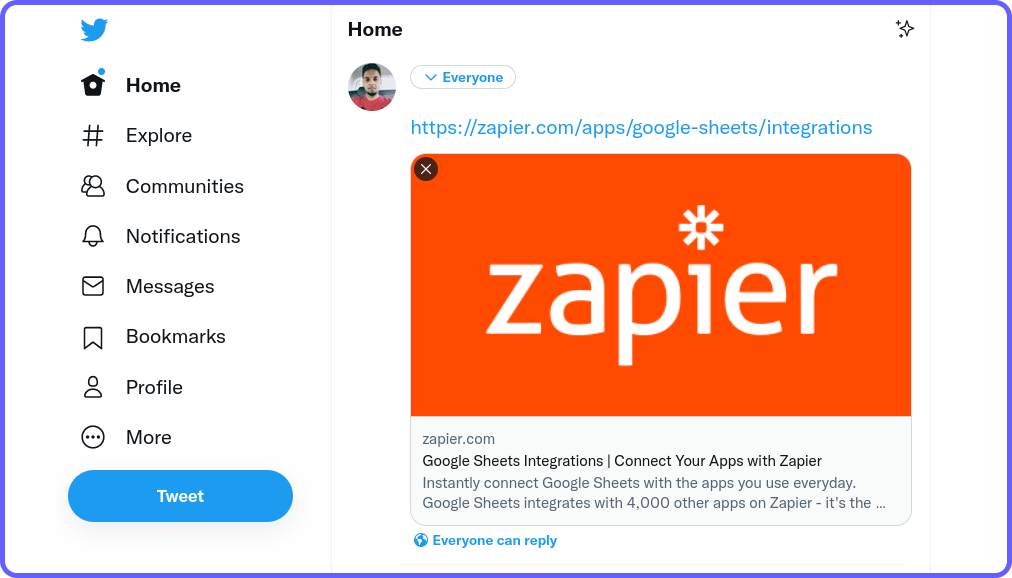 For example, see how the Zapier links look when sharing on Twitter in the above screenshot.
You can use tools like metatags.io to test what your URLs will look like on different social platforms.
Create an optimized Permalink Structure
I'll explain this with an example.
Say, your business offers document templates for resumes & cover letters and also email templates for outreach and cold emailing. Now, you have 2 ways to structure your URLs:
The #1 way:
site.com/resume-templates
site.com/cover-letter-templates
site.com/outreach-email-templates
site.com/cold-email-templates
The #2 way (preferred):
site.com/documents/resume
site.com/documents/cover-letter
site.com/emails/outreach
site.com/emails/cold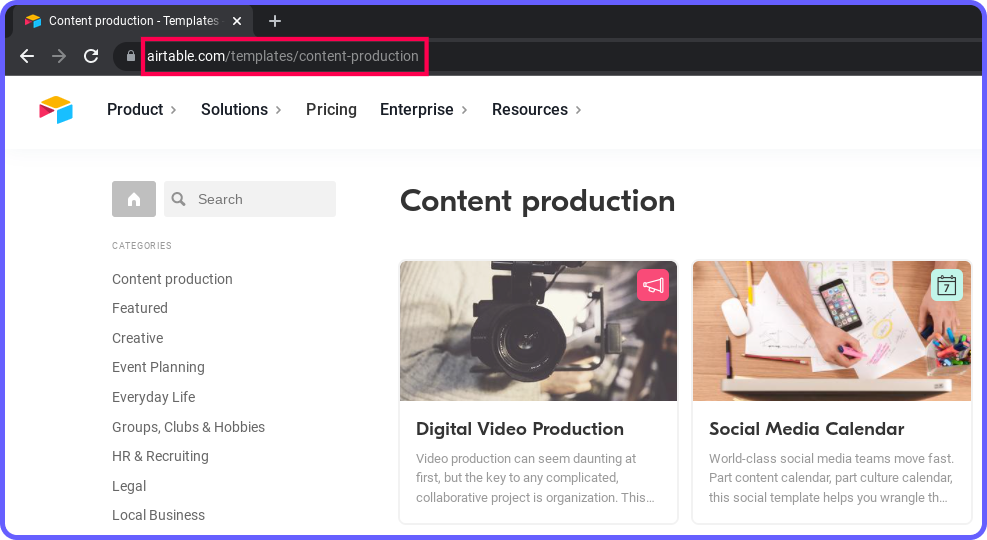 And, the #2 way is always preferred because it creates a kind of SILO structure that helps the search engines and the users understand the website structure in a better way. It's way more organized than the first way.
Make the pages load fast
Ever since Google announced the Core Web Vitals to be included in the list of ranking factors, it has become significant to speed-optimize your web pages.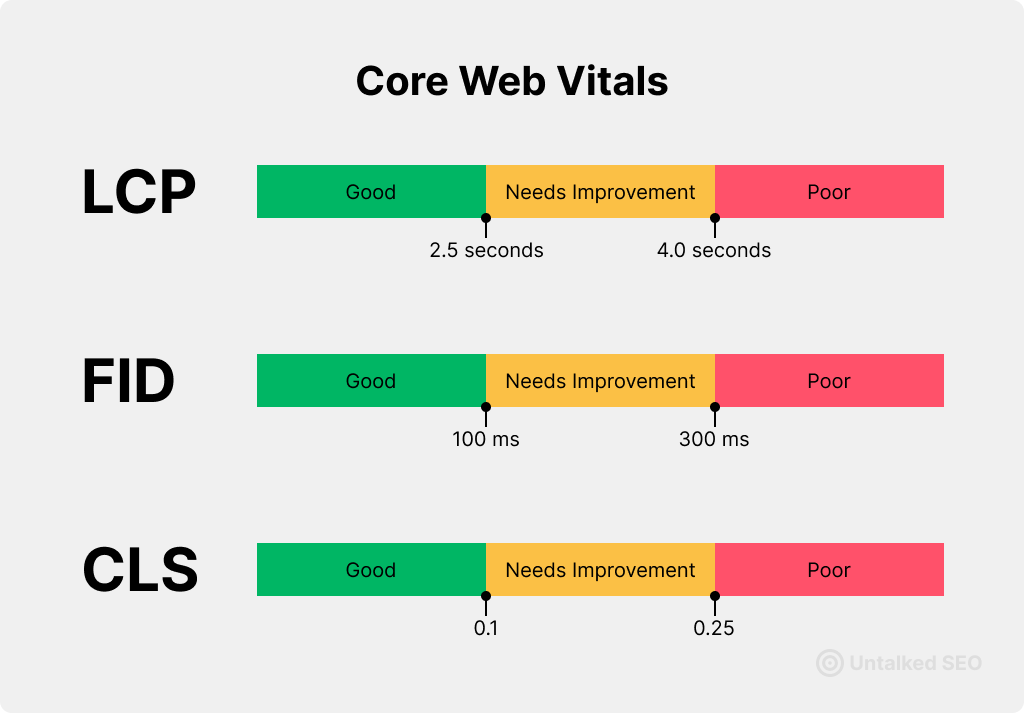 I recommend doing anything and everything to make the landing pages load in under 2.5 seconds. Even a second more than that, and you are losing a considerable number of customers.
You can use the Core Web Vital tools to measure and optimize your website's performance.
b). User experience
You have to serve two lords – the search engines and the users.
Now that your website is optimized for the search engines, it's time to optimize it for the users. Because even if you drive hundreds of thousands of visitors to the site, if the landing page is not good enough, you won't be able to get them converted.
Some things that you must keep in mind for a better user experience are:
Make the copy persuasive
You can sell anything with just texts but your copy needs to be clear, precise, and persuasive to improve your conversion rates.
I recommend reaching out to friends (who have no idea about your product) and asking them to read the copy before making it live. If they understand what's all this about without asking questions, you're good to go.
Design it to look attractive
Having a good design on top of a persuasive copy is like a cherry on top. By good design, I do not mean adding tons of animations and stuff that slows down the loading.
Add boxes, colours, visuals, etc. to make the page skimmable and the visitors can quickly find what they are looking for. Not to mention, keep the sentences short and break the text with headings and images.
Have a kick-ass Call to Action (CTA)
Instead of using generic CTA buttons like "Get Started" and "Learn More", have a descriptive Call to Action text that's specific to what the user will be getting. Use something like "Download Template" or "Design Infographic".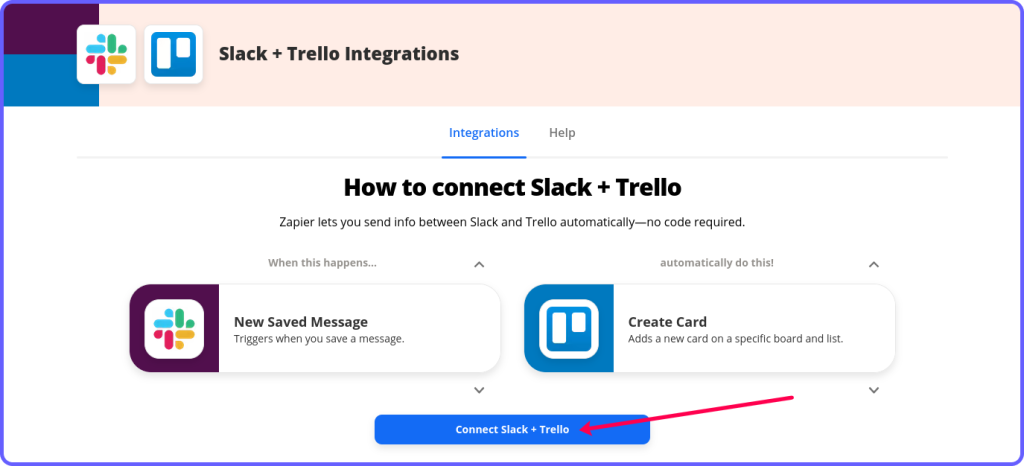 I recommend making the CTA button visible on the first screen, which means the user can see it without scrolling down.
After all, you should now have a solid template for the landing page. It's time to move to the next step now.
C. Prepare the database
After you've identified the keywords (head terms + modifiers), it's time to wrap your head around the most time-consuming part of the process, it's time to collect page content data. And, it's a bit tricky because all the pages need to be unique – different images and text. Otherwise, your site will have duplicate content issues, which you do not want at any cost.
Coming back to the data collection part, it's entirely the developer's choice how they would prefer the data to be collected, what variables they would use, and which tool they would use to store the data.
I recommend using Google Sheets for collecting and storing all the data because:
Multiple people can work on the data collection part at the same time, and
The collected data can be copied or migrated to any other preferred format
In the spreadsheet, the columns would contain the different variables (what you used while creating the page template) like [first section text], [first section image], [features list], etc. You can see the below infographic for a better understanding: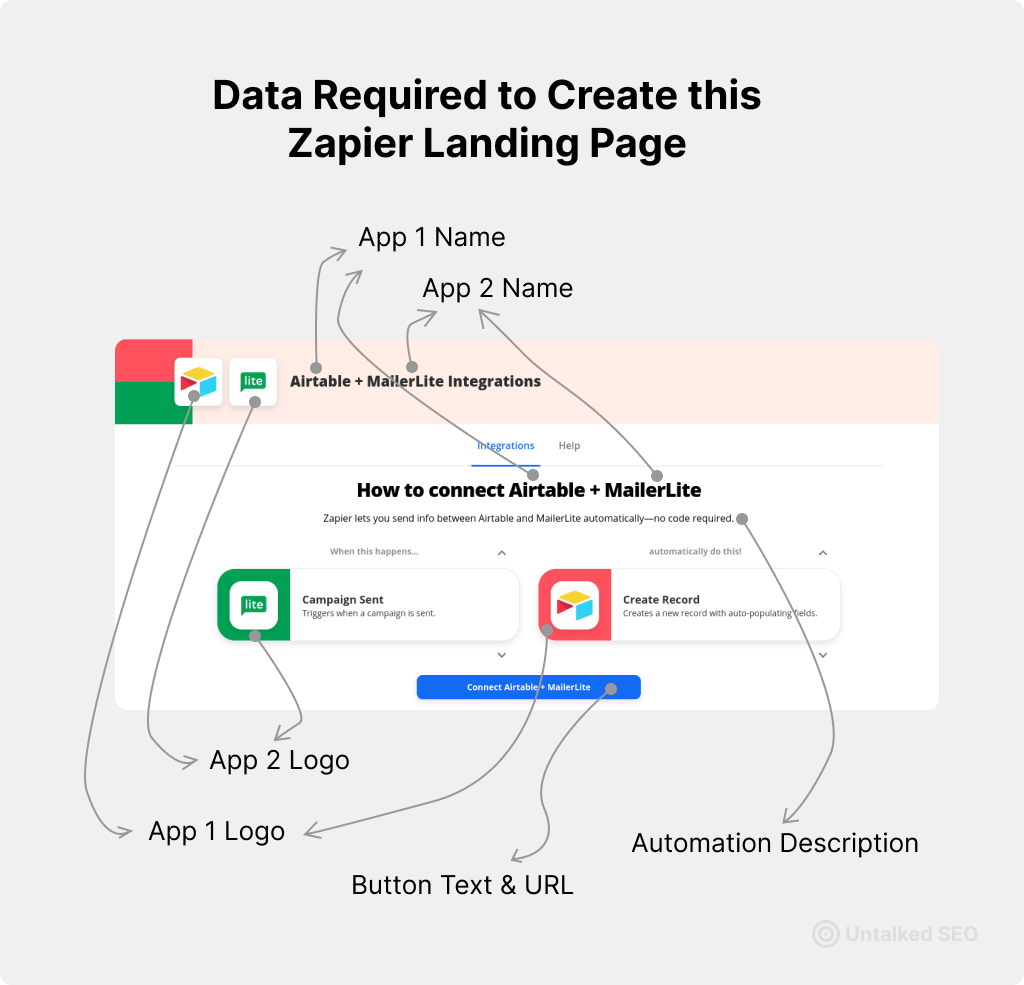 Here are some great resources to collect data for your programmatic SEO projects:
Government's websites and data
Other publicly available data

search directly on Google
get it from GitHub
search through Reddit communities
look for public APIs
use Google Dataset Search

Scrape data from one or multiple webpages
I have written another detailed post about finding suitable datasets for your pSEO projects that you may want to check out. Also, check the pSEO data preparation guidelines so that you don't miss anything.
Now, everything is ready and it's time to get done with the next part.
D. Generate pages, programmatically
Let me clarify that if you need a complex setup, you would need a developer (or a team of developers) to implement this on your website. The dev has to take the data from the database that you created previously and create a setup to dynamically generate all the pages based on the created template.
For an expert developer, this should not take more than just a few hours if the template design and the data are ready.
Also, programmatic SEO can be done using any modern SSG/SSR framework like Next.js, Nuxt, or any other SSR backend frameworks that use templating like Django, Rails, Laravel, etc. It's possible using low-code platforms like Webflow too.
Can Programmatic SEO be done without code (nocode)?
Yes, it's completely possible to create landing pages in bulk using nocode. You can use platforms like Softr.io, Pory.io, Sheet2Site, etc. that automatically pull data from a Google Sheets or Airtable database and create 1000s of pages within minutes.
You can do Programmatic SEO in WordPress too – you'll have to use plugins like WP All Import or Multi Pages Generator.
My ideal programmatic SEO setup
Whenever I have to create simple blog-post-style programmatic pages, I always go for the combination of WordPress + WP All Import + Google Sheets. I prefer this trio over anything else.
That concludes all the technical parts involved in the process.
But hold on… do not make the pages live without going through the next section.
#3. Launch and associated complications
Programmatic SEO is a highly sophisticated process, and it does have some associated complications that you must address before actually launching the landing pages.
But before talking about the complications, here are some practices that you should follow:
Create an XML sitemap including all the newly generated landing pages
Review site and server performance, evaluate if they'll be able to handle this many pages
A/B test the page content, layouts, etc. to find out what works the best
After the launch, keep monitoring the analytics to see if everything is working properly
Keep an eye on the crawl budget
Fix all the site errors like 404 pages, duplicate content, redirect issues, etc.
Google has published a detailed guide on Crawl Budget Management that you can understand more from.
Complications with Programmatic SEO
Some common issues that you might face when implementing Programmatic SEO on your website are:
Duplicate content: Using the same text snippets on multiple pages creates the issue of duplicate content, which causes various indexing-related problems. But if the data you collected is of high quality, you needn't worry about this.
Indexing and crawlability: Since 1000s of pages suddenly appeared on the website, you might run into problems like slow indexing, exceeding the crawl budget, etc. However, creating an XML sitemap, adding internal links, fixing redirect loops, fixing the robots.txt file, creating an HTML sitemap, etc. does fix this, most of the time.
Low-quality or thin content: If the generated landing pages do not have enough content and/or the page content is not of high quality, it causes various indexing and ranking-related issues.
Cannibalization: If two or more landing pages target similar or closely related keywords, it causes keyword cannibalization, as the search engines get confused about which pages they should rank for a keyword. If similar pages have been created mistakenly, it's better to delete the extra pages and add 301 redirects to a single relevant page.
Orphaned pages: If a page doesn't have internal links from other pages on the site, it's called an orphaned page, and search engines simply ignore them. Having a proper internal linking structure is the only solution to this problem.
Read more about the challenges associated with programmatic SEO and what you can do to avoid and overcome them.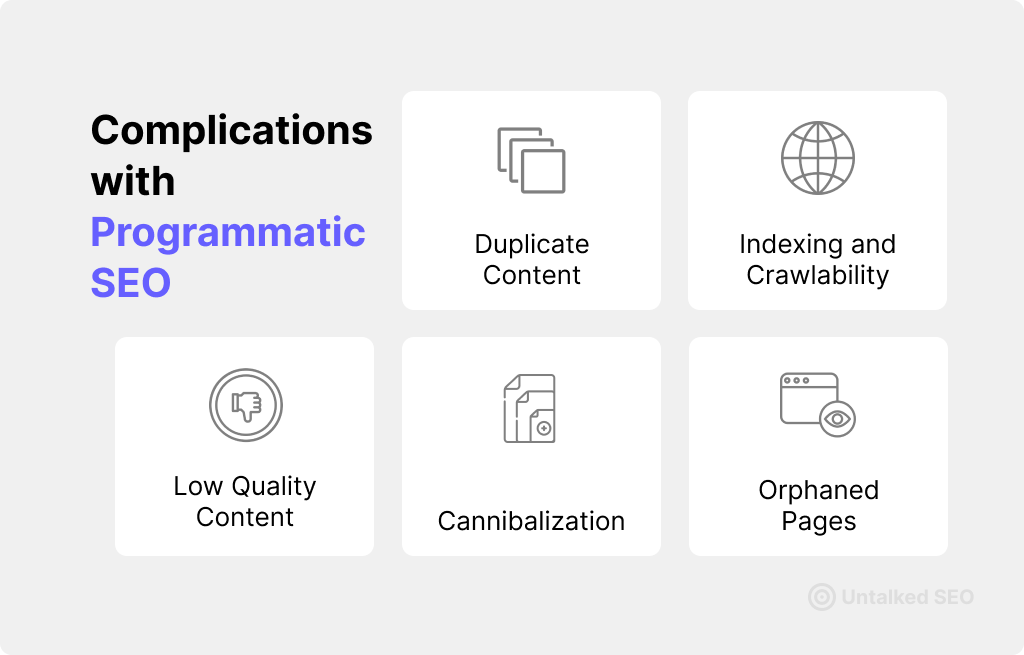 These issues can cause serious damage to your website, try avoiding them at any cost.
If you publish thousands of pages at once, sometimes Google algorithms note unusual publishing patterns and stop indexing or send the site to the sandbox mode. I recommend dividing the publishing process of all the pages over 5–6 weeks.
Related: Get Your Programmatically Generated Pages Indexed Faster
Let's take an example of how I would approach if I had to create 10,000 programmatically generated pages on a site:
First, I'll publish 10 pages and let it index, wait for the Google Search Console data and if everything looks good, move to the next step
I'll publish 1500 pages per week so that it doesn't cause any crawl budget and indexing issues
Now, you're ready to hit publish!
#4. Performance measurement
Now that all the landing pages are live, it's time to monitor the website and search performance.
Some Key Performance Indicators or KPIs of Programmatic SEO are:
Search rankings
It takes time for the pages to rank in the search engines, you will have to wait for at least a few weeks before you start seeing some impressions and clicks. And once the terms start ranking, it's important to keep track of all the pages and how they are performing in the SERP.
You can check the keyword rankings and search visibility data inside Google Search Console. But sometimes, it's a good idea to use a dedicated tool to monitor the ups and downs of your pages in the search. If you're already subscribed to Ahrefs or SEMrush, they do have the tools for SERP position monitoring; otherwise, there are other dedicated tools like Whatsmyserp and Serpfox.
Organic traffic
The main goal of implementing Programmatic SEO on your website was to bring more and more highly targeted visitors to your website. And in that case, it becomes really necessary to track how many people are coming to your website organically.
You can use the free tool Google Analytics to measure organic traffic, so far, it's the best analytics tool available out there.
Backlinks
Backlinks are still an important ranking factor and it's a good idea to keep track of them. If you're running an outreach campaign for backlinks, you can use Ahrefs or SEMrush to find backlink opportunities and also track their current status – if they're still present or have been removed.
Website performance
Google has included Core Web Vitals as ranking factors, so now your rankings also depend on how fast your website loads. You can use various CWV tools like Google PageSpeed Insights and LightHouse to measure and optimize your website's loading performance.
Other site errors
If your website encounters any other kinds of errors that are affecting the search engine visibility, you'll get notified in the Google Search Console. Keep a close eye on that.
Programmatic SEO examples
I have collected some of the best examples of Programmatic SEO that you can learn a lot from:
1. Zapier
There can't be a better example than Zapier, it ranks for almost all the terms related to automating two or more different apps generating more than 3M monthly organic visits. They have more than 25,000 pages targeting keywords like "connect <app 1> + <app 2>".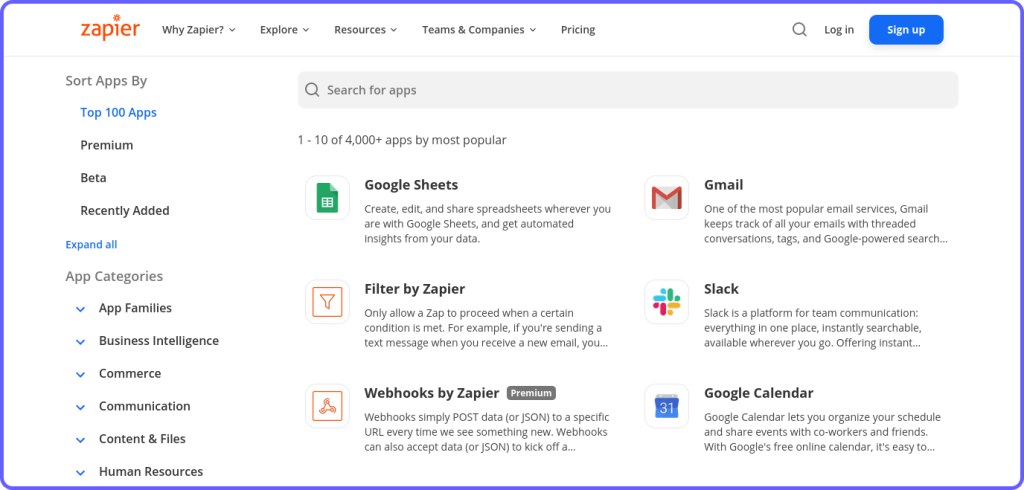 You can see how the page looks in the above screenshot.
2. Airtable
Even though Airtable is not very aggressive with Programmatic SEO, they do have some template pages created using the technique that generates more than 800k monthly organic visitors.
They analyzed what their customers are using Airtable for and created templates targeting those queries.
3. DelightChat
DelightChat implemented this technique and created 300+ pages in just a week. They used Webflow for all this and have written a detailed guide on it.
Now, DelightChat receives more than 150k monthly traffic from search engines.
Some other examples of Programmatic SEO are Canva, Yelp, Truework, NameCensus, Airbnb, etc.
Related: Creating a Programmatic SEO Blog using 11ty and Mustache
Programmatic SEO FAQs
1. What is the purpose of programmatic SEO?
The purpose of programmatic SEO is to get more visitors to your website and earn more money. It does this by making important pages easy to find for people by creating bulk pages that follow a similar pattern.
Final words
When done right, Programmatic SEO is a great solution for any business that needs to create landing pages on a large scale. The key is to find the tech stack that works best for you and fits into your company's workflow.
The technique is still underutilized and I'm sure there will be more companies using the concept in the near future. And, we'll see more tools coming to the market, making the Programmatic SEO process even easier.
To help you quickly get started, I have created the complete programmatic SEO checklist that you can refer to.
What do you think about it?
Kindly let me know your thoughts in the comments below.