tl;dr
Our team at Untalked SEO worked with an Indian ed-tech startup in 2019 to help them with their content strategy. We planned 20 well-researched blog posts every month and by the end of 6 months, their website was getting more than 45,000 visitors per month.
Before we started
Let's see at some stats from before we started working on the website:
Blog posts published: 13
Monthly visitors: 210-300
Backlinks: No data available
The existing articles were poorly written and not internally linked to each other. The WordPress blog loaded very slow, too.
When we started
The client's main goal was to receive tens of thousands of consistent traffic. We took the note and worked in the direction.
But before starting, we held a few casual calls with the client talking about the things like:
what the business is all about
how everything works
who is the target audience, etc.
Let's take a look at what we did and how we did, in detail.
Competitor research
As per our procedure, competitor research was the very first step. It's necessary to find out what the direct competitors are doing.
We started Googling and noted down 12 blogs/websites that were ranking for the main keywords. Out of those 12 sites, 5 were direct competitors whose business model was also kind of similar. And out of those 5 main competitors, 2 sites were publishing more than 20 blog posts every month and were 5+ years old.
Unbelievably, the 2 biggest competitors had tens of thousands of pages indexed in Google, they had covered tons of topics.
Competitor #1 — 25,000 pages indexed in Google
Competitor #2 — 17,000 pages indexed in Google
We analyzed their websites and started making our plan to compete.
The plan
Please note that our team only helped the client with the content strategy — topic ideas with a detailed outline. They had in-house writers who were to write everything.
The writing team was capable of delivering 30,000 words per month. And we decided to publish 20 articles every month.
15 articles of 1000 words each -> 15,000 words
5 articles of 3000 words each -> 15,000 words
And that makes a total of 30,000 words that the writers could easily achieve each month. We are not very aggressive with the word count though.
In the first month, we aimed to target long-tail keywords and questions that the audience was asking in forums because they are easier to rank and quickly start attracting some quality traffic.
To find these low-hanging fruits, we manually looked in the forums like Quora & Reddit and found some great topics. Answer the Public and Ahrefs were also a great help.
We used Google Sheets to note down all the raw topic ideas that looked like this: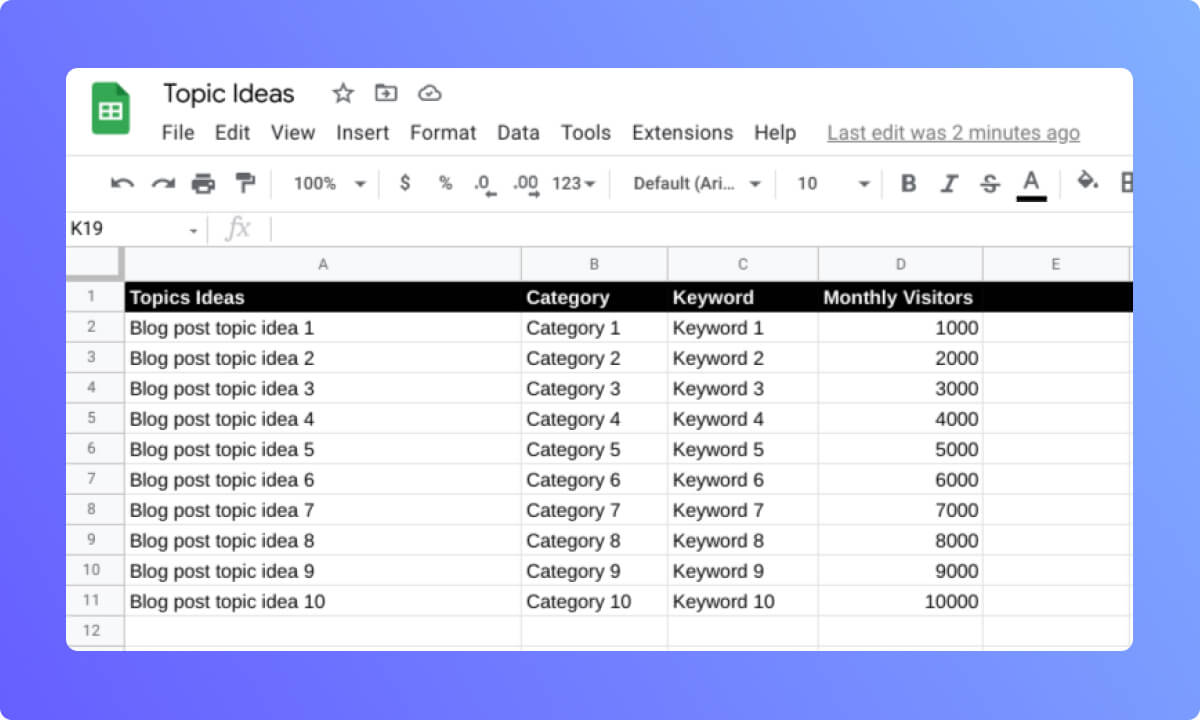 We took one topic at a time from the topic pool, started researching and creating a detailed outline.
For all that, Notion was our best friend. We created a detailed content calendar in Notion that looked like the screenshot below.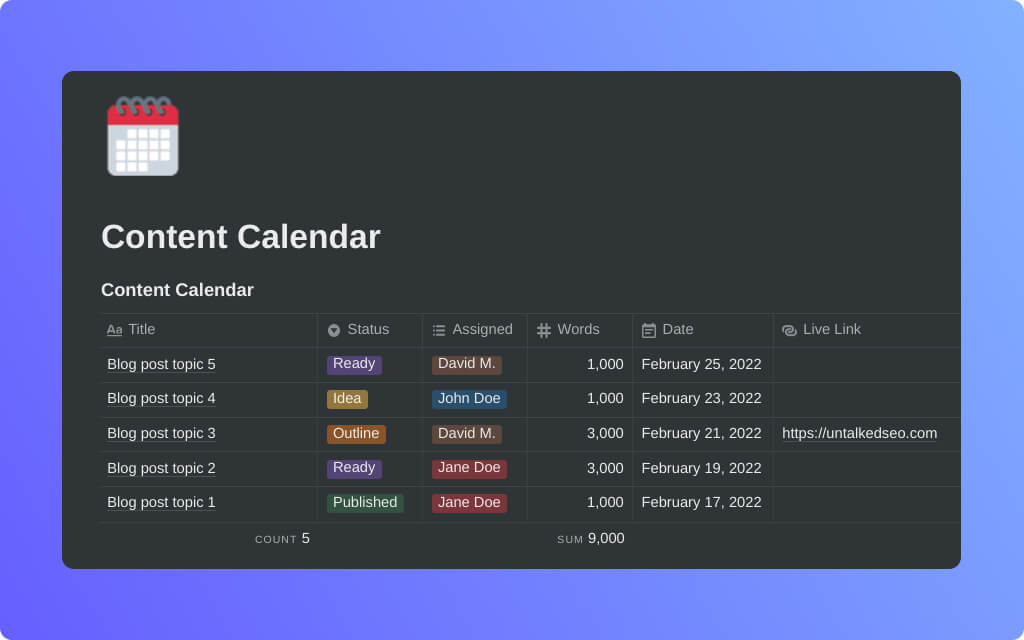 All the writers were invited to the Notion workspace where they'd write on the topics they were assigned to and then change the status from "outlined" to "ready". Most of the writers wrote directly in Notion, however, some used Google Docs or MS Word, and then they would copy-paste into the corresponding Notion pages.
Once the articles are written and edited properly, a person would find relevant images and screenshots and then publish them on the specified dates. We also created some custom graphics when needed.
Going a bit technical, we kept the permalink structure of the posts as: website.com/category/new-post which helped create excellent topic clusters. We believe it certainly helped in ranking higher. See the below image to understand how topic clusters are connected.
Since "category" was in the permalink, creating a lot of categories would have messed up everything. We carefully categorized all the blog posts into 5 broad categories.
Also, we repurposed all the articles into multiple small snippets and posted them on social media and in forums like Reddit and Quora. At least, there were 2 forum posts for each blog article.
And that's what we kept doing for straight 6 months — nothing more, nothing less. Not to mention, we targeted comparatively difficult keywords in the later months.
The results
Now, let's take a look at what results we were able to achieve:
Out of 133 articles, 13 were already on the site and we helped create 120 new ones. Also, there was no manual backlinking process done. All the 40+ quality backlinks were naturally acquired.
Because the deal was just to bring more visitors to the blog, we do not have the data of if their revenue actually increased. But we strongly believe that it must have increased, considerably.
Kindly note that we published this case study at compile.blog, originally.